Sitting around a campfire and sharing stories, laughs, and smores with your friends and family is nearly always a recipe for a memorable night. So why not bring the focal point of those lovely outdoor nights back to your own backyard? With a fire pit, you can get the cozy feeling of a campfire whenever you please, rain, snow, or sun! And if you're looking for the best of the best when it comes to fire pits, you've got to go with stainless steel.
But stainless steel fire pits are not something you can go out and buy willy-nilly, you've got to do your homework. To help make sure you get a fire pit that fits your needs and functions the way you want it, we've put together a list of our top five favorite stainless steel fire pits, as well as what to look for when you're on the market searching for that perfect backyard focal point.
Our Picks For Our Favorite Stainless Steel Fire Pit
There are tons of different options out there, and they come in all sorts of shapes and sizes. Not to mention that different fire pits come with many different functions and features that others may not have, so it's important to be informed. Read on to see why these five are the ones that caught our eye!
Best Stainless Steel Fire Pit – Solo Stove Bonfire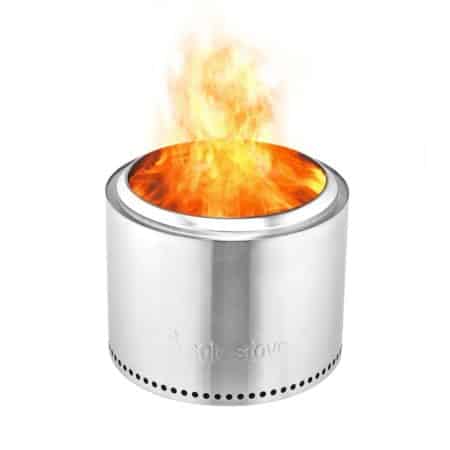 Everything equal, this effort from Solo Stove is the best stainless steel fire pit you will find out there. Apart from the fact that Solo Stove has great customer service, offering free shipping and returns with a lifetime warranty, this fire pit also comes packed with features. The Bonfire weighs just 20 pounds and is easily portable thanks to the black nylon bag that comes with this versatile firepit.
Set it up in your backyard, or pack it up and bring it to your camping spot or friend's place. Made with durable 304 stainless steel, the bonfire is also easy to use, requiring nothing more than wood to get going. This state-of-the-art firepit is also easy to maintain and is fitted with technology to keep smoke output low to make it perfect for clean outdoor living.
Pros
Wood-burning fire, no fuel necessary
Technology allowing for limited smoke
Lightweight and portable
Comes with a free heat-reducing stand to allow use on any surface
Cons
Not ideal for large amounts of cooking
No grating, separate grill grating would need to be purchased
Best Of The Rest – Outland Firebowl
Sale
Outland Living Model 870 Portable Propane Fire Pit,...
PERFECT NO MESS CAMPFIRE: Say goodbye to dirty ash, expensive firewood, and bothersome smoke and enjoy a clean realistic propane campfire. The perfect outdoor centerpiece for camping trips, RV travels, tailgating get-togethers, beach parties, and family evenings on the backyard patio.
COMPACT AND EASY TO TRANSPORT: Travel size fire pit is lightweight and portable; easily set up in minutes with no tools required. Matchless auto-ignition feature ensures a fast and simple start-up; all weather fire bowl delivers a clean and smokeless flame with cozy warmth and beautiful evening ambiance. Measures L 19" x W 19" x H 11" with total output of 58,000 BTU/HR.
BEAT THE CAMPFIRE BAN: CSA approved fire pit is safe to use during most campfire bans; always check with the current fire restrictions in your area. Spark free propane campfire helps protect campgrounds and forested areas with a safer easy-to-use fire option. No assembly required
This bowl-shaped fire pit is also capable of providing you with a clean, nearly smokeless flame. The pit only goes 24″ x 24″ 13″ so it's easily portable to any gathering you can imagine from beach cookouts to tailgate events to family evenings in the backyard.
This propane-fueled fire pit is very easy to set up, requiring no tools, and it comes fitted with a 10-foot hose so you can easily keep your propane tank out of view. The stainless steel construction gives it very dependable longevity so there won't be any need to worry about this unit breaking down. Don't worry about foraging for or buying firewood, this fire pit can provide you with the perfect ambiance without any wood, smoke, or ash.
Pros
Small frame makes it easily portable
Produces very limited ash and smoke
Does not need wood of any kind
Free attachable hose to keep the propane tank out of sight
Cons
Limited heating capacity
Propane tank is not included
Best Of The Rest – RedK Foldable Fire Pit
If you want a fire pit that really grabs the attention, springing for this unit from RedK would be the way to go. It has a sleek, unique design that's supplemented by the fact that it's built with 304 stainless steel. This affordable option weighs just 5.5 lbs and when it's folded in on itself it makes for very easy packing.
When unfolded it goes 13″ x 13″ x 11″ and boasts a very high-end, artistic look that can be set up for any backyard fire setting, garden party, or barbecue. Simply expand the fire pit to its full size, toss some firewood in, and you'll have a warm, cozy fire in the coolest fire pit you or your friends have ever seen in no time!
Pros
Unique design that is unreplicated on the fire pit market
Very lightweight design
Easy to carry to any destination in something as simple as a handbag
No fuel or propane needed
Great for grilling small food such as hot dogs
Cons
Smaller size means smaller fires
The Ultimate Stainless Steel Fire Pit Buying Guide
Now that we've laid out the best of the best on the market when it comes to fire pits constructed of stainless steel, we can breakdown the different aspects of a fire pit that a buyer should consider.
Fuel Type
Fuel type is one of the most important aspects to consider when on your buying journey. Propane-fed fire pits have tanks attached to, which make them portable. While propane is more expensive than natural gas, it can outperform natural gas by more than double in some situations. When you're using natural gas you almost always need to have your setup built-in with a connection to a natural gas line in your home. Natural gas is relatively inexpensive, though the upfront cost will be higher as it will need to be installed by a professional.
Many options are designed to support a wood burning fire rather than one produced by gas. Wood is a good, cheap alternative to the more expensive fuels, and wood burning is also generally seen as a cleaner way to go about creating a nice, warm fire. Depending on the size of your fire pit you'll also need to look for different sized wood and kindling.
Charcoal, for its part, will produce a more controlled and evenly distributed heat that gives off a smaller flame. Bio-ethanol is another fuel type that is a clean and efficient fuel that creates no smoke, no ash, and no embers. Another more niche option is to go with a gel chemical that emits no smoke or odors.
Features & Functions
There are also several different features and functions that are unique to specific pits or their manufacturers. Some may come with spark screens, which help keep burning embers and sparks inside the pit, while others may come accompanied by wood grates, which help circulate the air beneath your wood, giving you better combustion and increased airflow, which is ideal for a roaring fire.
You might even find a fire pit that can double as a pizza oven, which is the perfect combination of outdoor fun and delicious food that will get all your family and friends together. You can also find options boasting eco-friendly features, such as sustainable fuel, or even fire pits with a fun novelty design to fit in even more perfectly with your backyard setup.
Location
It's important to think about where you're going to be placing a static fire pit, or where you plan on using a portable unit. You'll need to start with a large outdoor open area so that the flames and smoke have space to breathe, while also providing for enough spots for your family and friends to sit.
You always want to avoid places that have encroaching or nearby bushes or low branches so that you can have a decent-sized fire without having to stress about your sparks landing on dry trees and branches. Avoiding an overly windy place is smart as well since the more wind you have, the harder it is to control a fire.
FAQs
Hopefully, by now we've answered all the questions you might have had about these outdoor fire contraptions, but just in case there are still some people wondering about certain things, we've made sure to gather all of the most relevant and common questions on the subject.
Is Stainless Steel Good For A Fire Pit?
The answer is simple and plain, YES. Stainless steel is one of the most commonly used materials for constructing fire pits because not only can they be aesthetically elegant and beautiful, but they're also inherently rust-resistant. This makes them very durable and gives them a more lengthy outdoor lifespan than most. Stainless steel is a mark above other metals such as carbon steel and cast iron when it comes to the construction of a fire pit.
Can You Make A Fire Pit Out Of Stainless Steel?
If you're looking for a fire pit, there are many great options made of stainless steel. It's a strong material that looks great and whose durability allows it to last much longer than other similar materials. It doesn't need any help overcoming the weather and the elements either; it's truly the ultimate material for fire pit construction.
How Does A Smokeless Fire Pit Work?
Different smokeless fire pits have different methods when it comes to reducing smoke emissions. A common way to do it is with a double-wall, secondary combustion design. When those walls begin to heat up from the fire, the hot air begins to rise through the gap between the two walls. After that, the air exits the wall cavity through a line of holes around the fire pit's rim. The pressurized, heated oxygen is mixed with the smoke, which causes it to reburn. That secondary combustion is how your fire becomes smokeless.
Closing Thoughts – Choosing The Best Steel Fire Pit For Yourself
After reading through our buying guide we hope that you've found what you're looking for when it comes to stainless steel fire pits. We've broken down all of the main components to consider when on your buying journey, while also supplying you with five awesome fire pit options to choose from. If you must take a recommendation from us, we can't say enough about Solo Stove's Bonfire, which has everything you could ask for in a stainless steel fire pit.
Our Top Pick – Solo Stove Bonfire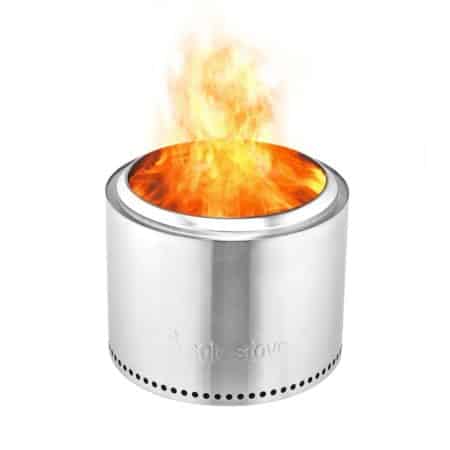 Everything equal, this effort from Solo Stove is the best stainless steel fire pit you will find out there.